Learn The Notes the Boogie Woogie Masters of the past
ACTUALLY

played! Dr K's Boogie Sheets: Note-for-note transcriptions of the boogie woogie classics
Dr K writes,
"A few years ago I came to a stage in my playing where I was sick to the teeth of all the dumbed-down, inaccurate boogie sheets out there. Some of these cheap boogie transcriptions floating around the internet are just second-rate, photocopied music sheets that are well over fifty years old!"
"After experiencing for myself the disappointment of badly done, out-of-date boogie transcriptions I decided to produce the ROLLS ROYCE of boogie woogie sheet music transcriptions. The result is DR K's BOOGIE SHEETS."
"These are PREMIUM quality boogie woogie sheet music transcriptions of the boogie woogie classics. Make no mistake, my Boogie Sheets are the highest quality and most accurate boogie woogie sheet music transcriptions available anywhere in the world!"
"I have designed these boogie sheets in such a way that, even with the complexity of the notes played by Albert Ammons, Meade Lux Lewis and Pete Johnson, this music is easy to read, beautifully presented and a pleasure to study."
INSTANT ACCESS "Wherever you are in the world, you can have instant access to these premium quality boogie woogie sheets. We've put them in a convenient PDF format. You just need a computer and access to a printer to print them off!"
"The reason I don't offer the sheets in "hard form" is to save YOU time and money. We sell our music globally, and I want you to be able to access this material INSTANTLY at click of a mouse."
In Dr K's Boogie Sheets You'll Find:
The

EXACT

notes the boogie masters of the past actually played!
A

GOLDMINE

of authentic riffs played by the giants of boogie
Beautifully presented and

CRYSTAL CLEAR

music notation
Every boogie riff and subtle nuance

FAITHFULLY

transcribed
The ability to truly

MASTER

the classic boogie woogie piano solos
Testimonials
"I've been playing boogie woogie piano for 30 years and these are the most accurate transcriptions I have found anywhere."
John Drayton, Holland Park, London
"After a couple of hours with your transcriptions I really started to sound like Albert Ammons!"
Franz Muller, Berlin, Germany
"I loved coming up with my own (extremely basic) variations with your wonderful sheet music to help me. Dr K, your boogie sheets are the business!"
Noah Williams, Wellington, New Zealand
"Hey Dr K, I can now play Boogie Woogie Stomp! Your sassy boogie sheets helped me no end!"
Jane Taylor, Toronto, Canada
"I am amazed that you have managed to produce transcriptions of every note and nuance played by Albert Ammons! I've been searching for years for these kind of boogie sheets!"
Anthony Johnson, South Carolina, USA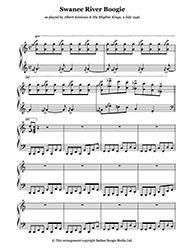 Click to print FREE sample of
Swanee River Boogie Sheet Music By Albert Ammons
Ultra Convenient To Download!
When you pay with your credit card on our totally secure order page, you get an immediate automatic email sent straight to your inbox with the link to the sheet music download. You click the link and print off the sheets. It's that simple!
Dr K: "Why waste your money on cheap transcriptions that are inaccurate and practically worthless? For a few dollars more you can have cutting-edge boogie sheets that show you the CORRECT NOTES and are produced with the latest technology!"
All Six Solos Plus Bonus Report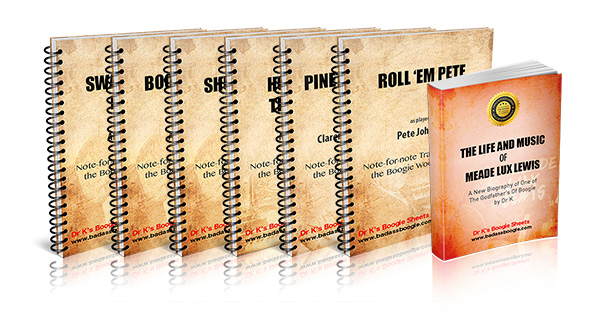 Six Classic Boogie Woogie Piano Solos + Bonus Report
Bonus Report: The Life and Music of Meade Lux Lewis by Dr K
Swanee River Boogie
Boogie Woogie Stomp
Shout For Joy
Honky Tonk Train Blues
Roll 'em Pete
Pinetop's Boogie
Price: $59

The Badass Boogie Blockbuster
Download a World-Class Boogie Woogie Education in One Click!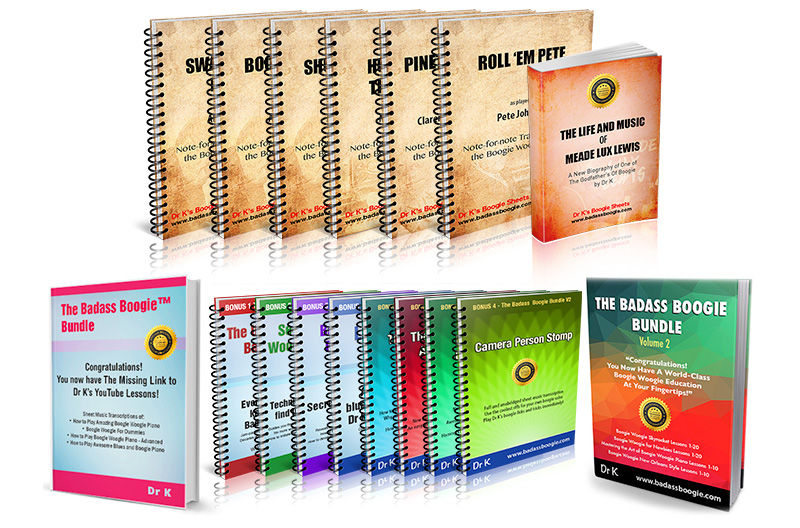 Swanee River Boogie
Boogie Woogie Stomp
Shout For Joy
Honky Tonk Train Blues
Roll 'em Pete
Pinetop's Boogie
Bonus Report: The Life and Music of Meade Lux Lewis by Dr K
Badass Boogie Bundle Volume 1
Badass Boogie Bundle Volume 2
All Bonus Products Included!
Price: $179


Copyright ©2016 BadassBoogie.com All Rights Reserved. Website Design by Design2work